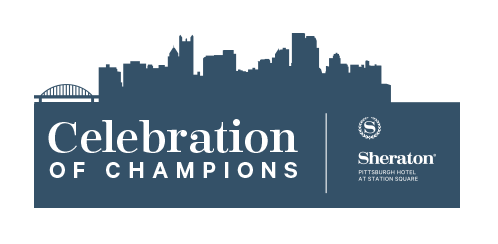 Nomination Categories
Celebration of Champions 2017
The Celebration of Champions 2017 program is designed to honor and recognize Pittsburghers who exemplify remarkable leadership, inspiring community achievement, and extraordinary entrepreneurial spirit. There are amazing people who are transforming our city every day and our goal is to bring attention to these notable individuals who are doing great work to better our community and our city.
Nominees will be chosen from the following categories: healthcare, community heroes, education, tourism & hospitality, sports & entertainment.
Healthcare
Pittsburgh is renowned for its incredible medical resources, research and accredited hospitals. The healthcare industry is responsible for much of the economic upswing in Pittsburgh through its cutting edge innovation. Nominate leaders in the healthcare industry that are transforming or influencing healthcare in our city.
Community Heroes
There are extraordinary individuals, including first responders and military personnel, who deserve to be recognized for their untiring dedication to our community. Nominations for the category will recognize individuals who go above and beyond to make our community a better place to live, work and play.
Education
Some of the best colleges, universities and school districts in the country are located right here in Pittsburgh and are credited with fostering extraordinary young minds. Nominations in the category of education will help highlight individuals that teach or provide the essential tools and resources to help our young people succeed to become professionals who positively impact our region.
Tourism & Hospitality
Most livable, best place to work, best place to live - these are just some of the recognitions Pittsburgh has received in recent years. Pittsburgh tourism is a booming industry that has created thousands of jobs and resulted in billions of dollars in revenue. Nominations for this category will recognize individuals who help make our city a desirable place to live, work and visit.
Sports & Entertainment
With a bustling cultural district, high-profile sports teams and now a revenue streaming entertainment industry, Pittsburgh has been recognized worldwide for its influential sports and entertainment. Nominations will recognize individuals in the sports and entertainment industries that are true champions of Pittsburgh. These can be people who provide us with cultural experiences, give back to the community, or play an instrumental role in putting Pittsburgh on the map in the entertainment industry.